Adirondack Furniture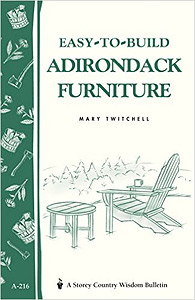 32 Seiten (2000)
entdeckt bei:
amazon.de
highlightEasy-To-Build
Autor(in): Mary Twitchell


Dieses englischsprachige Buch bietet eine ganz hervorragende, einfach umzusetzende Anleitung für den Bau eines Adirondack-Gartenstuhls. Darüber hinaus enthält es Baupläne für ein passendes Fußteil, einen Beistelltisch sowie den ursprünglichen Westport-Stuhl (den Vorläufer des heute bekannten Adirondack-Stuhls).
Laut Kurzbeschreibung finden sich in diesem Büchlein sowohl Anfänger als auch gelernte Schreiner zurecht.
Der Verlag über dieses Buch (Klappentext):

Building Adirondack furniture is a time-honored craft. Sturdy and rustic, this furniture can be a beautiful addition to any indoor decor, although it's most often used to set the scene outdoors. There, the furniture is subjected to a lifetime of abuse. Yearly it moves from somewhere hidden away (probably dark and musty winter storage) to front-and-center on the summer stage. Now, hour after hour it is beaten on by intense UV light, drenched in driving rains, then fried again in the summer sun.

Through it all, the furniture patiently endures--ever handsome, ever inviting, ever lasting. To survive summertime abuse and the semiannual ritual of being dragged into and out of storage, outdoor furniture must be sturdy, rugged, and well built--all qualities that epitomize Adirondack pieces.

This bulletin contains instructions for building an Adirondack chair, matching footstool, companion side table, and Westport chair (an ancestor of the modern-day slatted Adirondack chair). Each project will take the moderately skilled carpenter less than a day to fabricate; for the beginner, maybe a weekend. Learn how to choose the right lumber and hardware, complete with instructions for table, footstool, and the Westport chair.